Mom Relaunch
It's your time to Shine!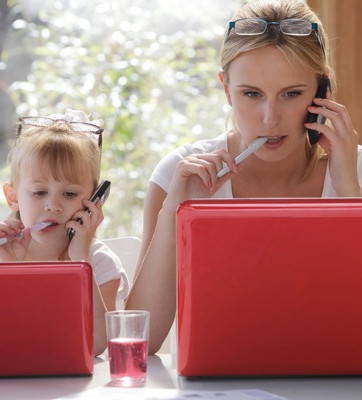 Moms: It's Your Time to Shine!
You're a mom! The greatest joy of your life, right? Of course! But suddenly, some staples of your former life no longer fit, like the 80-hour workweek, bi-monthly business trips to Shanghai, or slogging away at unfulfilling tasks while a nanny takes your child to his first t-ball practice. You've tried "leaning in" to your career, but when you look behind you, there's a home in shambles – permission slips you forgot to sign, kids watching too much TV while you work, and a harried, late-night trip to the grocery store to buy the cupcakes for the class party in the morning.
Or maybe you've "off-ramped" from the workforce, choosing to care for your children full-time and now you are ready for your next evolution. You're ready to get back to work — or create your own work.  You know what you don't want to do, yet, don't quite know what you do want and how to get there.  And things like updating your resume, or upleveling skill sets feel like roadblocks.
DOES THIS SOUND FAMILIAR?
---
The Working Mom Worries…
I'm stuck in an unfulfilling job
I'm stressed out and working too hard . . . all for what?
Whenever I "lean in," my home life crumbles
I'm so overloaded with work and caring for my family, I have no time to think about what I really want
I want more of a balance
I want more "me" time
The Stay-At-Home Mom Worries…
I spend all of my time with my kids, taking care of everything and everyone but me – I have no time to figure out how to pursue something new.
I don't want to return to the career I had before kids.  Are my skills outdated?
I've been out of the workforce for so long. It seems I have so much to catch up on.
Can I find a flexible job that gives me time for my family?

Here's the good news. I would love to share my strategies and tools so you can successfully make this transition. From my own evolution (which you can read about here) from business leader, to mom, to career coach, I have learned a lot along the way that I want to share with you. Since starting Path Relaunch, I have had the opportunity to partner with many amazing moms looking to strike balance between work and family. I firmly believe that finding meaningful work doesn't have to conflict with living the life you want to live — that you can be a present and engaged mom while also making an impact in the world with your skills and talents.  It's your time!  Let's relaunch your path together.
NO MATTER WHAT YOUR SITUATION, HERE'S WHAT I DEEPLY BELIEVE ABOUT YOU:

You have talents and skills to offer the world. You can make an impact. You can (and should) be recognized for your value. You can find meaningful, fulfilling work that allows you to balance work and family.
Stop asking your friends and family for advice they can't give you! Jenn has been instrumental in my evolution from full-time mom to budding entrepreneur. She understands that every person is unique, and she caters her coaching in a deep and personal way in order to tap into what really drives you. Jenn helped pinpoint my real core values and helped break me out of unproductive (and self-defeating) thought cycles to ultimately move forward with my new career. She is a great listener and truly empathizes with her clients. Through our sessions, I have had several breakthroughs and am currently doing the work I have always dreamed of. Our meetings helped lift me out of my rut and reignited the passion that made me want to change careers in the first place. I highly recommend Jenn for anyone who wants to find the right career and to actually make it happen.
Susan C. Kim
A friend of mine recommended Jenn when I was beginning a job search after having spent several years at home as a full-time mom, and I'm so glad she did. Transitioning back to work was daunting, and I was looking for a career coach who could relate to that experience and who also could provide the real-world business and job search expertise that would be required in the competitive job market. Jenn fit the bill perfectly – as an MBA, a career coach at the UCLA Anderson School of Management, and a mom, she has amazing empathy for specific the back-to-work fears faced by moms, and she also delivers the goods in terms of sophisticated strategies that will land you the job. Jennifer's services were an excellent investment for me in my job search, and I enthusiastically recommend her to anyone looking for a career coach!
Wendy Witherspoon
I began working with Jenn when I was ready to begin reimagining my bodywork practice after first launching it ten years ago. I came to her looking for clarity around how I could organize my business, find balance with the time I want to be with my children and envision my evolution. Jenn completely meets me where I am and is so relatable. Our sessions are always incredibly productive and endlessly fun. She listens with curiosity, takes in every brainstorm I throw her way and zeros in on the most relevant point.  Her succinct, direct and loving suggestions have guided me to clarify my direction and sharpen my message. I am so deeply grateful for my work with Jenn and recommend her highly to any woman!
Jenny Grouf